Launching HIP Líderes Cohort 7
A mid-career fellowship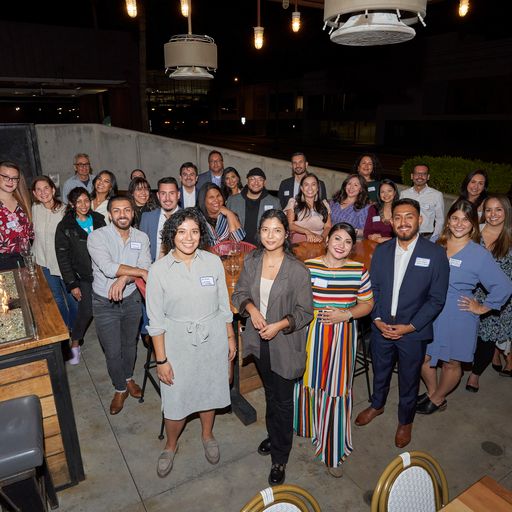 The Líderes fellowship cultivates a diverse group of mid-career Latinxs in philanthropy and nonprofits to promote systemic change through racial healing in a safe environment that supports their ability to advance equity in the field while strengthening their professional development and fostering new relationships.
Cohort 7 of HIP's Líderes came together for the first time since the pandemic in Phoenix, Arizona to participate in their Opening Retreat. The cohort is made up of all Latinx leaders whose ethnicities include Ecuadorian, Puerto Rican, Mexican, Colombian, Dominican, Peruvian, and Salvadorian. The opening retreat is intentionally designed to begin unpacking how they–as Latinx leaders—show up in their places of work while building an analysis and a framework for them to lead with authenticity and liberation. With 23 Líderes joining us in-person and two joining us virtually, everyone was ready and eager to begin unlearning and redefining what Latinx leadership is.
Our retreat kicked off with a happy hour and dinner to give Líderes, staff and consultants the opportunity to get acquainted with one another. This also created a unique opportunity for the cohort to get one-on-one time with Ana Marie Argilagos, President and CEO; Brenda Burgos, Director of Strategic Partnerships; and Karla Gonzalez and Stephanie Roman from HIP's Leadership & Racial Equity team. The night was filled with connections, laughter and overall joy to be in space with only Latinxs. Líderes had a chance to see the agenda leading up to the retreat and were intrigued by the fellowship's leadership theory of change that centers the individual's healing to address internalized oppression first as a means to define what liberated leadership looks like in practice.
The following days of the retreat were co-facilitated by Erika Totten, Leadership Advisor and Spiritual Life Coach, and Kristen Caballero-Saucedo, Philanthropic Advisor. Together they created the space for Líderes to begin unpacking and building a self-analysis of their individual leadership styles as well as naming what self-limiting beliefs are directly connected to systems of oppression. To help identify those systems Erika and the group explored elements of white dominant culture to find existing patterns in either their place of work or their personal work style. This is probably the most difficult part of participating in the Líderes fellowship because for many folks the self-limiting beliefs have deeply impacted their wellbeing—be it spiritual, emotional, physical or mental. To begin redefining leadership together the group wrote values of a liberated culture and talked about where they have agency and power to bring their values. One of the primary examples we heard was in relationship to grantees.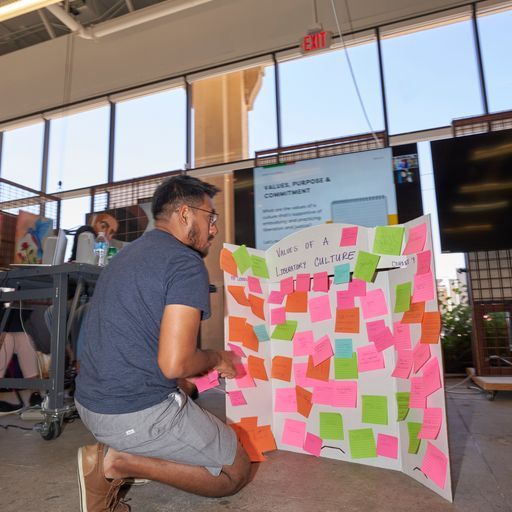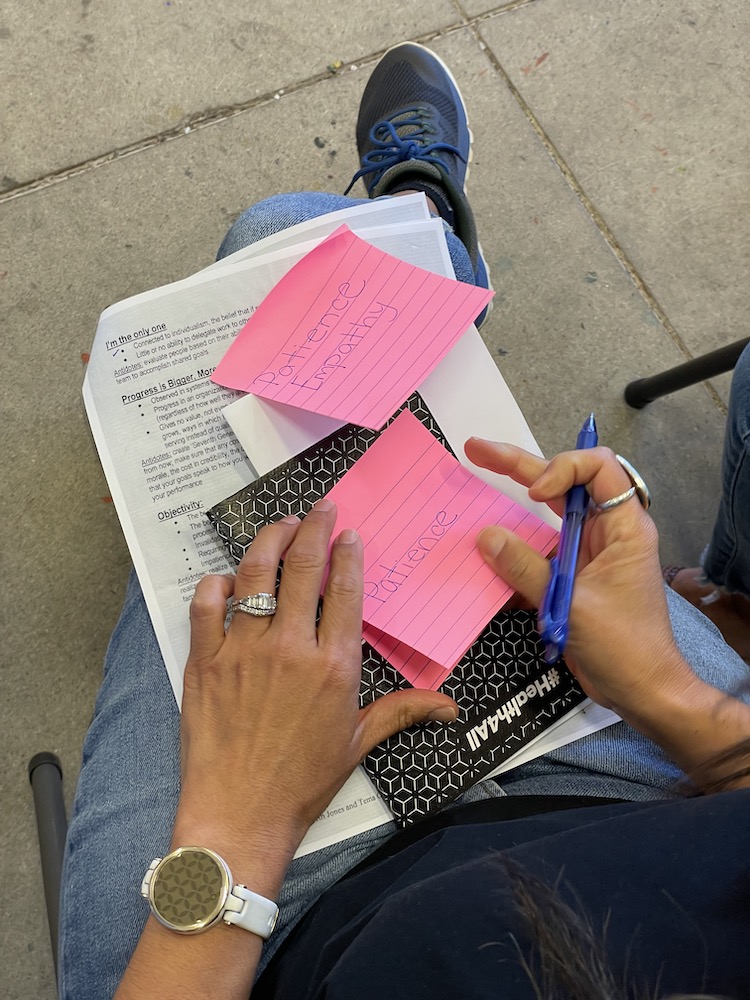 Here are some reflections shared by Líderes:
"For philanthropy to create the impact it wants to see in the world, foundations need to work from a place of abundance because the idea of scarcity is tied to capitalism."
"Hierarchy is also tied to capitalism and we need to move away from that and instead work to share power with community."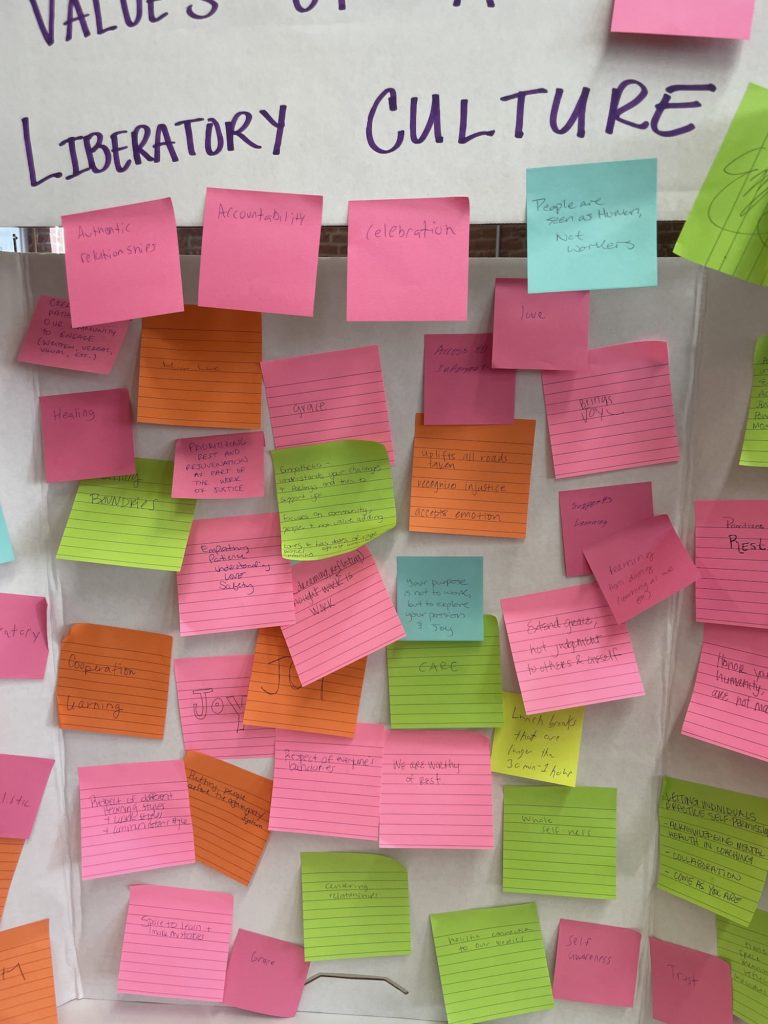 In addition to self-exploration, the cohort also dove deeply into group discussion on the historical context of who we are—from the caste systems to erasure of African & Indigenous heritage and Latinidad. Furthermore, the cohort talked about some of the problems with building a collective identity in the United States. One of the biggest takeaways was grappling with how we perpetuate the idea that Latinidad only refers to being Mexican - especially in the west coast. There is also an existing tension whether we should stop talking about Hispanic vs. Latinx because Hispanic puts power to those who are Spanish speaking, excluding Portuguese and perpetuating the erasure of many Indigenous languages due to colonization. The cohort was left to reflect on how other identities are involved or not being involved within their role and in their organization.
Here are some additional thoughts the cohort shared for reflection:
"We need to think about how we tell our own history and instead of it being East to West tell it from West to East"
"To talk about belonging and inclusion is important because people don't feel included in the concept of latinidad and it only serves the 'good latino'"
At the end of two intense days of learning and self-analysis, the group felt connected, empowered and reflective. Although some folks admitted to entering the space with some hesitation, others didn't realize how their own relationship to power was impacting how they show up to work everyday. The cohort was excited about building allies and conspirator relationships for the efforts of dismantling white supremacy and also building authentic relationships across the cohort.
Friday we concluded our retreat with a gratitude circle and folks had a chance to meet with others in their region to exchange contact information if they hadn't done so already. From this point the Líderes will be meeting every month for a community of practice with field experts covering topics related to their roles including participatory grant making, navigating systems change, and many more. The cohort will reunite in February 2023 for a mid-year retreat focused on healing and wellbeing and in May the fellowship will end with city based closing ceremonies that will be hosted by Líderes alum.