Our Stories, Our Voices:
Movement-Led Participatory Grantmaking
We're pleased to share this article by Esperanza Pallana, a HIP Líder, as part of a series sharing lessons and elevating equity centered work from our members, partners, and Líderes in practice. From grantmaking to capacity building and more, we're publishing experiences from our network that align with HIP's own goals of transforming traditional grantmaking models and making grantmaking more impactful by centering frontline leaders and the needs of grassroots organizations in our processes and protocols.
July 2022
Esperanza Pallana, Executive Director, Food & Farm Communications Fund
My career has been deeply rooted in nature based systems and indigenous practices. I've chosen a focus in food for the visceral history and visionary future food represents. Food tells the story of our ancestors. It is a medium that connects us, nourishes us, and heals us. Growing up in a food insecure household made me acutely aware that food is also a basic human right.
I have been an advocate for this right from my undergraduate days of listening to Piaroa, Yekuana, and Yanomami elders in Venezuela share stories of food sovereignty with edible and medicinal plants in their conuco to more recently becoming Executive Director of the national Food & Farm Communications Fund. There we shape the story of food through narratives of frontline communities—building their power by strengthening their ability to communicate across groups and organize to change the dominant narrative and transform the food media landscape.
In my career, I have worked to support social justice entrepreneurs and movement leaders in removing policy barriers, advocating for community economic resilience, and lending capital for transformative food system change. What has stood out to me the most in all of this work has been the concept of Tlatoa. In Nahuatl, the symbol tlatoa represents breath, prayer, governing counsel, and speaking up where we have not had a voice. Embedded in the word is the notion of integrity and sacredness.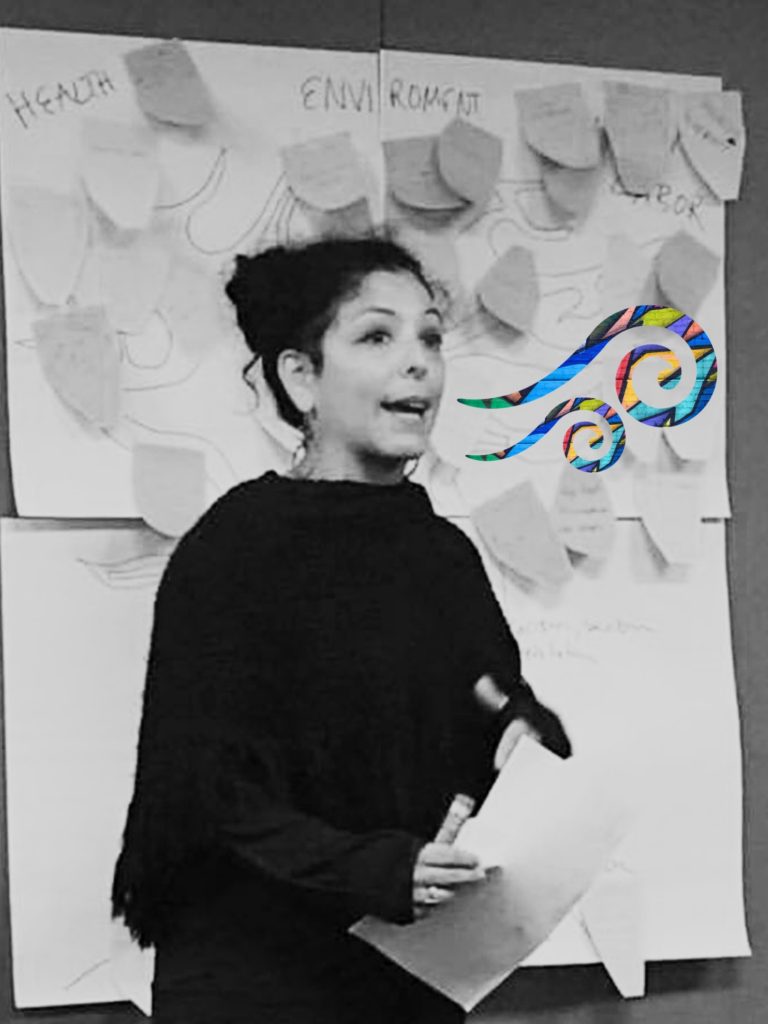 Breath is sacred

Speaking is a sound of spirit

Owning our words is connection to spirit

So we may show up in spaces of decision making and justice with spirit intact

Tlatoa is narrative power.
All too often our narratives are controlled or appropriated by others, but the solutions we need are driven from within our communities and need to be shared from our voices. Change starts with our own words, our own telling of our histories and our own visions of the future. From there, we have the power to shape beliefs, inspire empathy and collective action.
At Food & Farm Communications Fund, our grantmaking programs support cultural strategies, capacity building and multimedia storytelling campaigns that amplify community solutions that are in relationship with the earth, nourish all communities, and foster economic resilience. Our Impact Media Award (IMA) program has specifically shed light on influential food media makers lifting up this counter-vision and revolutionizing the food media landscape.
With movement-led participatory grantmaking, co-governance structure, and dedicated staffing, Food & Farm Communications Fund is positioned better than ever to fund and amplify grassroots leaders in their tireless effort to change food and agricultural systems. A recent ten year portfolio snapshot demonstrates our funding priorities with 45% grants toward narrative shift; 32% toward capacity building; 11% toward transforming food media; and 12% toward general communications support. In 2022, 81% of our Core Project grant recipients were BIPOC leaders in rural, immigrant, and working class communities.
Our Core Project grants range from $30,000 to $100,000, both as one time and multi-year funding. We offer a Capacity Grant program that offers smaller catalytic ranges from $5,000 up to $30,000 for internal training and capacity building within an organization. We also offer direct technical assistance and 1:1 coaching with consulting partners.
At Food & Farm Communications Fund, we enter our next decade poised with strong leadership, significant time-tested funding infrastructure and grassroots level engagement to meet the demand for communications support to build power and embolden transformative systemic change. In the words of Jessica Sabogal, a Colombian American artist, "write back or get written out". We own the power of our own storytelling so that our identities, experiences, needs and solutions may accurately be reflected.
About Esperanza
A 2017 HIP NGEN Lideres fellow, Esperanza is a culture change leader that has worked with nonprofits for over 20 years with an emphasis in narrative shift, systemic change and policy advocacy. She has led several successful campaigns that resulted in institutional change and innovative policy as well as capital and grantmaking programs advancing economic and racial equity.