New Líderes Alumni Steering Committee
Eight years ago, Hispanics In Philanthropy launched the mid-career Líderes Fellowship (formerly known as NGEN) with a bold vision to redefine Latine leadership in philanthropy by building a network of multiracial and multigenerational Latine professionals across sectors who are ready to lead with a racial equity lens, propel a new wave of Latine leaders forward, and ensure that the philanthropic and nonprofit sectors advance toward systemic transformation through racial healing. Since then, seven cohorts have launched, engaging over 220 leaders representing all regions of the US, Mexico, and the Caribbean.
The vision for the fellowship is not only to support individual cohorts of leaders but to foster a greater sense of connection and solidarity amongst the entire community and create space for grappling with our role and responsibility in the fight for justice and liberation. Recognizing that maintaining strong bonds across cohorts requires intentionality and commitment, the Líderes Alumni Network (LAN) Steering Committee (SC) was launched as a spark in 2019 and grew into a body in 2021.
Composed of dedicated Líderes alumni, the LAN SC works closely with HIP staff to create spaces of joy, healing, deep relationships, learning, peer counsel, thought-provoking ideas, rich dialogue, and care for alumni of the Líderes Fellowship by uplifting each other's skills, experience, and know-how. Now that the term for the second generation of LAN SC members is coming to an end, we are looking back at what we've been able to accomplish together and looking forward to all that is ahead.
Thank you to our retiring Steering Committee, 2nd Generation!
To support a robust network, as LAN SC 2nd Generation members, we considered: what does the LAN need at this moment, and how can we respond? This led to inquiry, listening, planning, and implementing programming that reflected what we heard from the Alumni Network. This is what we heard:
Líderes need a place to talk about leading fearlessly from where they sit within their organizations. How might we lead from a place of liberation? From this inquiry, the Liberated Leadership Charlas were launched. The first charla featured Michelle Morales, President of the Woods Fund, in conversation about how to create just institutions where vulnerability and healing can happen. The charla series will continue to be led by the LAN SC and Líderes and host discussions with Líderes alumni and other leaders in the sector.
Líderes wanted to increase their executive presence, engage in board service, and for those already serving on boards, increase their influence. As a result, at the 2022 HIP conference, we held an in-person and virtual training on board service for the Líderes and moderated a panel with Carmela Castellano-García a trustee with the Castellano Family Foundation, Chris Cardona, the previous chair of the Winthrop Rockefeller Foundation board, and Ramón Murgía a trustee with the W.K. Kellogg Foundation. We also partnered with Líderes to co-create a Board Service Peer-to-Peer group that continues to meet to discuss how to accelerate change in board culture.
Simultaneously, we launched a Grantmakers Peer-to-Peer group to hold a space for grantmakers to come together to discuss how to engage in values-aligned grantmaking practices. Alongside the LAN SC, Líderes are actively planning and moderating a thriving group.
We heard that Líderes wanted to come together to build community, embrace joy and laughter, and re-imagine new possibilities for the field. As a result, we worked with an alumni steering committee to host a first-of-its-kind LAN Summit at the HIP 2023 conference in San Francisco. The summit was a major success, with over 50 attendees engaging with Dr. Daniela Dominguez from On the Margin.
We are excited for the new steering committee to build on what's been accomplished to date and ensure that the LAN SC continues to engage Líderes to offer and coordinate new programming and engagement opportunities based on the expressed needs of the network.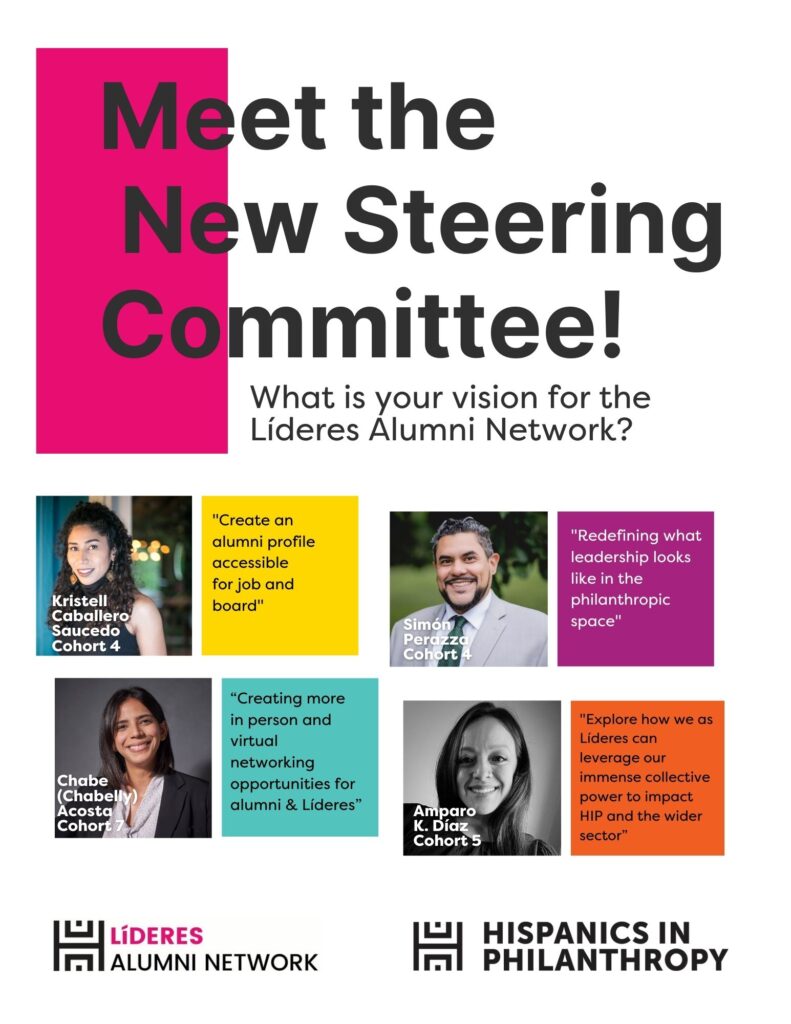 It has been a privilege to serve as LAN SC members. We leave the role excited about the participation and enthusiasm we have seen from the network, grateful for how the LAN has shown up authentically and engaged in deep and enriching conversations, and thrilled to see connections happen each time the network gathers. It is our sincerest hope that, as a network, we continue to cultivate bonds that will strengthen us personally and professionally and create a sector in which we all feel empowered to lead justly and boldly knowing that we have colleagues, comrades, and friends in many places and spaces.
Steering Committee, 2nd Generation:
Cindy Santos, Cohort 5; Saul Valdez, Cohort 3; Patrick Moreno-Covington, Cohort 3; Katherine Porras, Cohort 3; and Emmanuel Caudillo, Cohort 2