Open Mic: Climate Justice for Latine Communities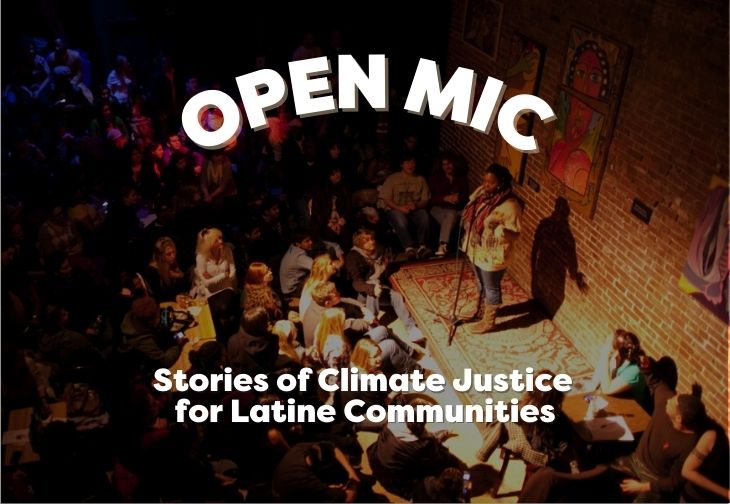 📣 Calling all climate advocates and storytellers! 🌿🎤
Join Hispanics in Philanthropy and Nuyoricans Poets Café for an unforgettable evening at NYC Climate Week! On Wednesday, September 20th at 7:00 PM we're hosting an impactful Open Mic where we'll share stories of climate justice for Latine communities.
Climate change affects us all, but we know that Latine communities face unique challenges and experiences. Through powerful narratives, poetry, and music, we'll delve into the resilience and strength that drives us forward in the face of climate adversity. 💪🌱
🎙️ If you're a talented storyteller, poet, or musician, this is your chance to shine! Sign up below and make your voice heard. Together, let's inspire change, foster understanding, and unite for a sustainable future. 🌍💚
📍 Location: Nuyoricans Poets Cafe (236 E 3rd St, New York, NY, 10009)
🕖 Date & Time: Wednesday, September 20th, 7:00 PM
Register below and spread the word and invite your friends, family, and colleagues to join us for this empowering Open Mic. Together, we aim to create a positive impact and amplify the voices of Latine communities during NYC Climate Week. 🤝🌿 Don't forget to use the hashtag #ClimateWeekNYC to stay connected with the event and global climate action! 🌎🌿
#ClimateWeekNYC #OpenMic #LatineCommunities #ClimateChangeStories #HIP
FAQ:
How do I sign up to perform?
We recommend you to send your name to alejandro.daly@hipfunds.org to confirm your participation. You can register in person at the event but we can't assure you will be able to participate due to the amount of performers.